Getting pain on the aged care agenda
---
---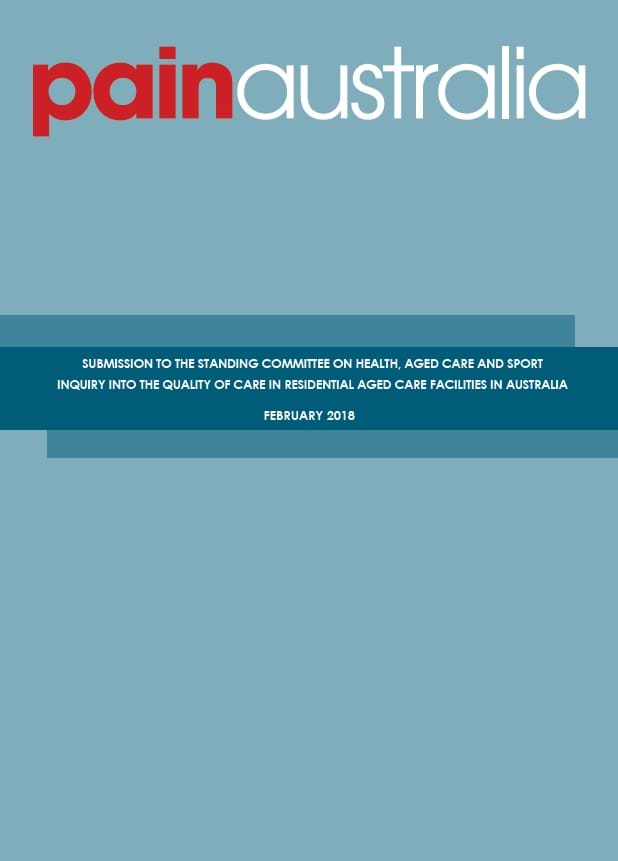 This month Painaustralia had the opportunity to give evidence to the Inquiry into the Quality of Care in Residential Aged Care Facilities conducted by the House of Representatives Standing Committee on Health, Aged Care and Sport and focused on one take home message: better managing pain is critical to improving the quality of care and the quality of life experienced by Australians living in residential aged care.
Chronic pain affects up to 80 per cent of the resident population in aged care facilities. Residents are at greater risk of events that cause pain such as falls, accidents and injuries, as well as living with conditions that cause pain and pain as a condition in its own right.
If residents also live with dementia (50 per cent of residents) or other cognitive impairment (90 per cent of residents), hearing and vision loss or language barriers, their pain often goes unrecognised, undiagnosed and undertreated. A lack of effective pain management for people with dementia often leads to severe behaviours that can also be poorly managed.
Painaustralia CEO Carol Bennett says it was an important opportunity to get pain on the aged care agenda.
"It isn't surprising that in 2016-17 the most common complaints made to the Aged Care Complaints Commission related to medication administration and management, falls prevention and post-fall management.
"While it is not possible to eliminate all pain and suffering, if pain is better assessed and managed in the first place, quality of care and quality of life can be improved significantly.
"The unfortunate reality for many residents is that pain has not been a priority in aged care regulation, funding or workforce strategies.
"Where they exist, pain education programs and management protocols have resulted in better outcomes."
Painaustralia also presented the committee with four major recommendations:
Access to good quality and best practice pain management for all residents of aged care facilities as a measurement factor included in accreditation processes.
Access to best practice pain management for all residents of aged care facilities should be included in funding models.
Supported and knowledgeable aged care workforces are critical.
Strategies to support and empower consumers and carers.