Adelaide pain service for kids and teens
---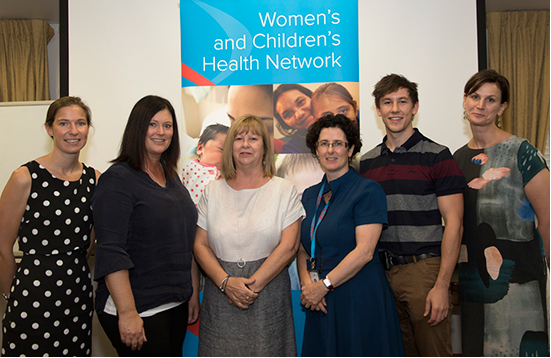 A paediatric pain clinic has opened its doors at the Women's and Children's Hospital in Adelaide, giving families in South Australia access to specialised paediatric pain care within their state for the first time, and revealing the extent of demand for these services.
Established just three months ago, the Women's and Children's Hospital Paediatric Chronic Pain Service is already at near full capacity with a wait list for referrals.
"We are really pleased to have the service up and running. It was many years in the making with many clinicians working hard to advocate for it," says Clinical Coordinator and Physiotherapist Emily Boundy (pictured with the team).
"We've had an influx of referrals from GPs, and medical specialists from within the hospital, who've been waiting a long time for the service to open."
Patients are presenting with a range of chronic pain conditions, with abdominal pain, chronic low back pain and Complex Regional Pain Syndrome the most common complaints.
The team runs a multidisciplinary program, with a pain physician, physiotherapist, clinical psychologist and occupational therapist holding initial consultations with children and teens up to 18 years of age and their parents.
The initial one-hour assessment is followed by a team discussusion to formulate recommendations, which are then presented to the family. The patient will then see the primary therapist as well as other therapists if required, outside of clinic time.
Current funding for the clinic only allows for 0.2 FT equivalent for each of the clinicians except the clinical psychologist, who has 0.4 FT equivalent and the clinical coordinator who works 0.5 FT equivalent in the role.
"Our aim is to transition patients to community-based therapy and self-management, by encouraging active pain management strategies and giving patients and families the right education.
"We are also planning to develop programs to upskill community therapists in paediatric pain management, which will give GPs more options for referral."
With 30 per cent of referrals from country patients, a key focus will be improving access to the service in rural and remote areas of the state.
"We encourage families that live outside Adelaide to visit us for their initial appointment, but we are hoping to use telehealth facilities for review appointments where possible.
"Country areas are also a focus for us for providing support and upskilling community therapists so that families can get therapy locally."
There are now seven multidisciplinary paediatric pain clinics in Australia, three of them in New South Wales, while the territories and Tasmania are still without a service.