New resource will help manage pain in residential aged care
---
---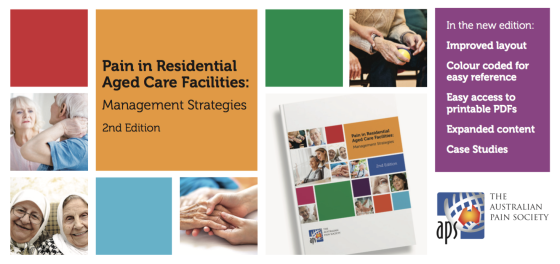 Thirteen years ago the Australian Pain Society (APS) published the first edition of its landmark document Pain in Residential Care Facilities – Management Strategies, which shaped pain management in residential aged care facilities across Australia.
With the second edition of this document just launched, there is an opportunity for facilities to update their work practices in relation to identifying, assessing and managing pain using various strategies.
Authored and reviewed by medical editor Dr Roger Goucke and expert multidisciplinary stakeholders, the document outlines a range of guidelines drawn from the latest research as well as insights from clinical practice.
There are two new chapters – Pain at the End of Life and Pain and Nutrition – and there is a renewed focus on the benefits of a multidisciplinary, multimodal approach to managing pain that includes both pharmacological and non-pharmacological strategies. These strategies include physical rehabilitation, socialisation, exercise and cognitive behavioural therapy as well as self-management programs.
This new edition is designed as a 'one-stop-shop', providing easy-to-use information and resources for the residential aged care facility workforce. It is relevant for personal care assistants, registered nurses, general practitioners, physiotherapists, occupational therapists, pharmacists and other allied health professionals.
The APS hopes managers and owners of residential aged care facilities in Australia and around the world will find the book a valuable reference for understanding the importance of pain management and the need for policies and procedures to ensure best-practice care is provided.