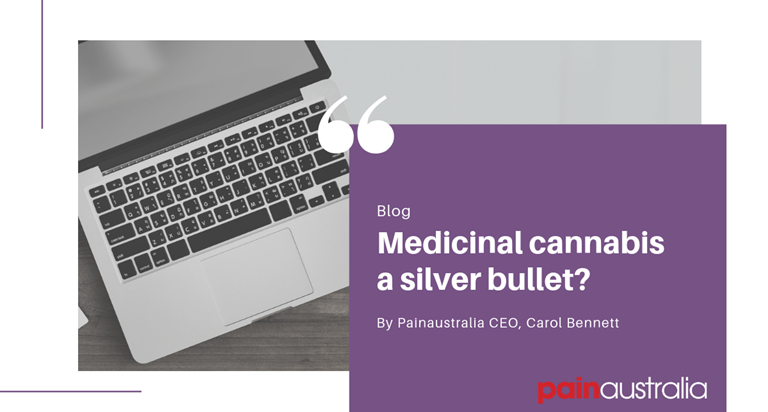 Accessing proper pain management is at best impractical, and at worst impossible for many Australians today - making medicinal cannabis appear a panacea for many.
Painaustralia's submission to the Australian Centre for Cannabinoid Clinical and Research Excellence (ACRE) prescribing guidelines consultation argues that this treatment remains an option of last resort for chronic pain due to a lack of evidence about the safe and effective use of the drug, possible unintended consequences and prohibitive cost.
The high cost of treatment, poor access to services especially in regional areas and the problematic prescription and use of opioids for chronic pain are just a few significant barriers to best practice pain management.
Internationally, there has been the deregulation of the medicinal cannabis markets and decriminalisation of the drug. This context has given rise to a clamour from the community that medicinal cannabis should be made more accessible as a form of pain management.
Despite the reality of the high out of pocket costs of this treatment, many consumers are eager to access it.
There are few well-designed clinical studies which support the use of medicinal cannabis for chronic non-cancer pain. Without proper evidence, making medicinal cannabis more available could see millions of Australians living with chronic pain offered 'false hope' of a treatment option that has limited benefit and diverts them from seeking and accessing best practice pain management that provides them with the optimal chance for a good quality of life and return to function.
There is also the mental health side of the equation to consider. The comorbidity between psychological and physical health problems is well documented, especially when illness becomes chronic. Nowhere do psychiatric and medical pathologies intertwine more prominently than in pain conditions. The Royal Australian and New Zealand College of Psychiatrists notes several studies which have linked cannabis use to increased risk for chronic psychosis, as well as worse outcomes for people who already have psychosis. We know 30% to 40% of people with chronic pain also experience depression, while the likelihood of suicide is known to be two to three times higher than the general population. For a population as vulnerable to poor mental health as the chronic pain community, it would be remiss not to be concerned about possible adverse outcomes.
Further research is needed, alongside initial assessment programs, comprehensive monitoring and robust fallback strategies should an adverse reaction occur.
Overall, there may well be merit to adding medicinal cannabis to the 'go-to' pain management toolbox for many, but until there is stronger evidence from established, well regarded and evidence-based institutions, it must be treated with caution.
In the interim, better pain management education for the general public as well as medical professionals based on the biopsychosocial model of treatment is important.
The development of a sound evidence-base remains the critical enabler to higher rates of prescribing and access to medicinal cannabis in Australia. Further investment in research to learn more about the role of medicinal cannabis in addressing chronic pain is essential if the clamour is to be heeded.
Carol Bennett, CEO