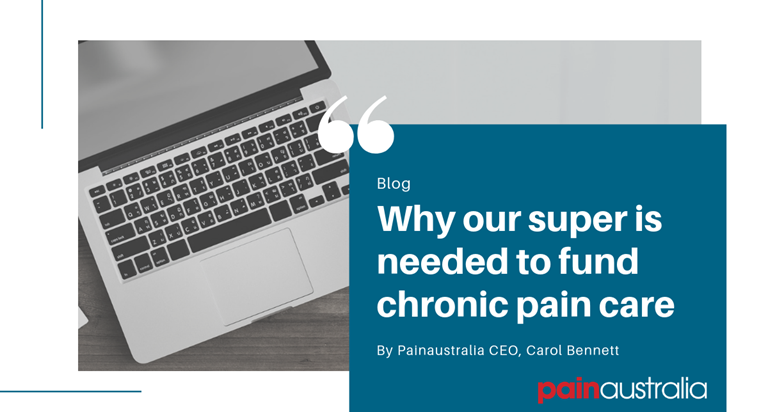 The Australian Government has recently been consulting on the early release of superannuation funds in times of severe financial hardship or on compassionate grounds.
While the recommendations of the review indicate that some conditions (such as a need for life-saving dental treatment) have been identified for inclusion, chronic pain continues to be an invisible condition.
It is deeply disappointing to note that millions of Australian's living with chronic pain will continue to be denied early access to their superannuation, especially when there are too few options to get care than to pay through the nose.
Today in Australia, there are 3.24 million Australians facing pain every day, a number set to jump to 5.23 million by 2050, as our population ages and the prevalence of chronic conditions – many of which are significantly associated with chronic pain – continues to increase.
Sadly, these people are left with two main options to get the best-practice treatment they should have: either forced to wait over a year to access multidisciplinary pain services and allied health through public hospitals; pay a premium for poor insurance coverage that largely neglects the needs of chronic health patients. The end result is that many people, many of whom have reduced working capacity because of their pain, face large out of pocket expenses to get the treatment they need.
An unintended consequence of these barriers is the over reliance on medications to manage chronic pain. Across Australia, more reports and statistics continue to highlight the epidemic of pain facing all Australians and the life-threatening risks posed by inadequate pain management.
While pain medication can play an important role in the treatment of pain, it is not without risks – especially when used for long term pain management for which it is not recommended. Australians today are more likely to die from prescription opioids than heroin. Similarly, the rate of pregabalin (a commonly prescribed pain medicine) misuse and related ambulance attendances has increased tenfold since 2012. Alarmingly, almost 40% of misuse-related events requiring paramedic attendance were for suicide attempts.
Ideally, Australian's wouldn't have to even consider using their superannuation to fund their chronic pain treatment. Ideally, pain would be recognised as the chronic condition it, and access to important treatments and services including basic allied healthcare would be as affordable and easy as seeing a bulk-billed GP.
However, we do not live in an ideal world. The least we can do is ensure that Australians can access their own superannuation so they can have the best quality of life possible.
Carol Bennett, CEO