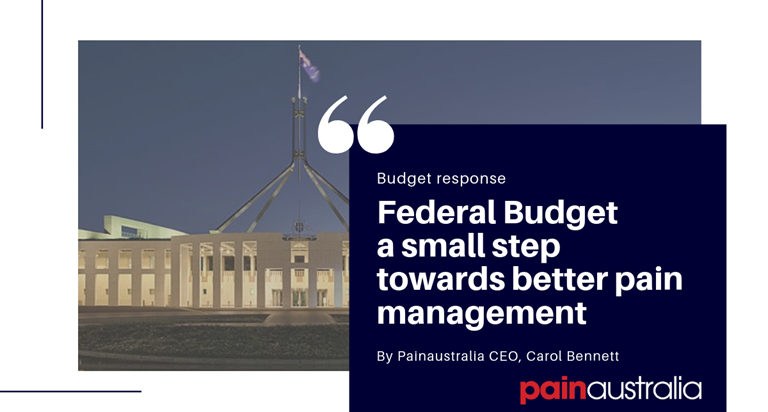 Treasurer Josh Frydenberg handed down his first Budget yesterday, with Health clearly the portfolio with the biggest funding spends of a record $104 billion in 2019-20.
Painaustralia has welcomed the steps that ensure pain management is part of the priorities of the health budget, with a $4.3m commitment to better access to pain management services through the Rural Heath Outreach Fund, as well as $7.2m towards a PBS subsidised take home naloxone program. We also welcome the strong commitment to prioritising mental health, with an additional $736.6m of funding measures, including $461.1m for youth mental health and suicide prevention announced in the 2019 Federal Budget.
As part of the newly announced measure of Whole-of-Government Drug Strategy, the Government will build on its efforts to reduce prescription opioid use. This will cost $189.1 million from 2018–19 to 2022–23.
Pain Management Services Investment
Painaustralia notes that under this measure, the Rural Health Outreach Fund will be expanded to give people better access to pain management specialist services and train providers to improve prescribing habits. This is a welcome investment.
A total funding committment of $4.3m will be available from 1 July 2019 to 30 June 2021 to support the delivery of outreach pain management specialist services in regional, rural and remote areas of Australia, and to undertake upskilling of primary care providers to improve prescribing habits and awareness of appropriate pain management treatment. These new services will reduce inappropriate prescribing (and resulting harms) and improve the chronic pain impacts being experienced.
This funding is available to flexibly meet the needs of communities, including (where appropriate) through telehealth services. This funding will also complement the associated investments in additional specialist drug treatment services by improving access to appropriate treatment for patients who experience withdrawal/dependence issues associated with long-term opioid medication use who transition to more appropriate non-pharmacological pain management services.
It will be provided through the current fundholders of the Rural Health Outreach Fundwhich supports outreach health activities in regional, rural and remote locations. There are four health priorities under the Rural Health Outreach Fund; maternity and paediatric health, eye health, mental health and support for chronic disease management. Services outside these priorities may also be supported.
Funding is provided to address a number of financial disincentives experienced by health professionals, such as travel and accommodation, facility fees and hiring equipment. A range of health professionals are supported, including specialists (such as paediatricians, psychiatrists and surgeons), allied health professionals (such as dieticians and occupational therapists), as well as GP's, nurses and midwives.
While pain management remains poorly implemented across Australia, in our rural and regional communities the contrast is even starker. Across the spectrum of health and welfare people in rural, regional and remote Australia experience worse health outcomes. They have less access to services and are exposed to increased health risks. Service access is an important priority.
Take Home Naloxone Program
The Government has also committed $7.2m for an Australia-first take-home naloxone program that will help reduce deaths caused by opioids. This is part of a comprehensive whole-of-government effort to address the supply of, demand for, and harm caused by drugs.
The funding will help the millions of Australians living with chronic pain access the pain management specialist services they deserve, as well as provide supports to enable the safe and quality use of medicines.
Additional Budget Measures
The Budget continues to focus on the four-key pillars of the national health plan – guaranteeing Medicare and improving access to medicines; supporting hospitals; prioritising mental health, preventive health and sport; investing in health and medical research and continuing to progress aged care reform, focusing on improving access and quality of care.
Additional budget measures that will also impact people living with chronic pain include improved access to diagnostic imaging ($198.6m), the establishment of cardiac, breast, hip fracture and trauma registries ($2.8m), Strengthening Primary Care ($1.1b) improved access to medicines ($40b), and an additional investment in public hospitals ($5b). Health and Medical Research received additional funding commitment of $5b under the Medical Research Future Fund 10-year investment plan.
So what does this mean for people living with chronic pain?
Overall, the new funding is a small but significant step in the right direction. The pain management sector has been been working hard to demonstrate just how pervasive chronic pain is across Australia.
With at least one in five Australians living with chronic pain today, it is an escalating health issue and carries a significant economic burden in lost productivity and health costs.
Federal Health Minister the Hon Greg Hunt MP will launch Painaustralia's Cost of Pain in Australia report on Thursday 4 April which will expose the true burden of chronic pain on Australian lives and the economy.
We hope that the Budget commitments signal the start of a chapter which recognises that addressing pain is in the interests of all Australians.
Carol Bennett, CEO