Disclaimer: Painaustralia aims to provide consumers with information about pain management options. The listing of pain therapies, programs and resources on our website is not an endorsement of these options. Individuals should consult with their clinician about the best options for their pain management.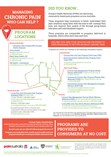 Online
Advance Online is a multidisciplinary pain management program delivered by specialist pain physicians, physiotherapists and psychologists using telehealth consultations and online resources. Advance Online is tailored to patient needs and can be accessed anytime, from anywhere in Australia. The program helps patients fulfil their potential by targeting the individual barriers to recovery, with a focus on improving physical abilities and understanding of their pain.

Permission to Move is a set of tools to treat chronic pain. It is an online course for patients looking to overcome their chronic pain, and it is a collection of resources for clinicians to use in practice.

Control My Pain Project A holistic program to help people with chronic pain manage and reduce their pain naturally. Participants learn proven strategies for body, mind and social wellbeing – all supported by education on the science of pain. This online program can be taken at your own pace and offers a moderated support group.
This Way Up Australia's first online multidisciplinary pain management program offering participants pain education and strategies from physiotherapy, psychology and other forms of treatment. It is produced and supported by St Vincent's Hospital in Sydney. It requires a referral from a clinician (GP, pain physician, doctor, nurse or allied health professional).
Virtual Clinic Self-help online courses for people with anxiety and depression, run by St Vincent's Hospital, Sydney.
eCentreClinic Free online courses for people with chronic pain, anxiety or depression, run by Macquarie University.
eCentre Clinic SCI Pain Course: A free internet-delivered pain education program for people with a spinal cord injury. The eCentreClinic is a not-for-profit initiative of the Centre for Emotional Health at Macquarie University, Sydney.
Healthy Weight for Life A weight-loss and pain management program for people with osteoarthritis, offering clinical support online and over the phone. The cost is covered by several private health insurers but you will need a referral from your GP.
painTRAINER is an interactive, online free tool that teaches people pain coping skills to help them learn strategies to effectively manage their pain.
Programs for Kids & Teens
Queensland
St Vincent's St Vincent's Private Hospital offers a variety of programs and services in Brisbane to help teenagers understand and manage their pain.
SKIP SKIP is a community-based program for children under 14 living with pain and their families.
Western Australia
The Complex Pain Service (CPS) at Perth Children's Hospital provides interdisciplinary care for children and adolescents with complex pain conditions as outpatients. The CPS team includes experienced medical, physiotherapy, occupational therapy, clinical psychology and teaching staff.