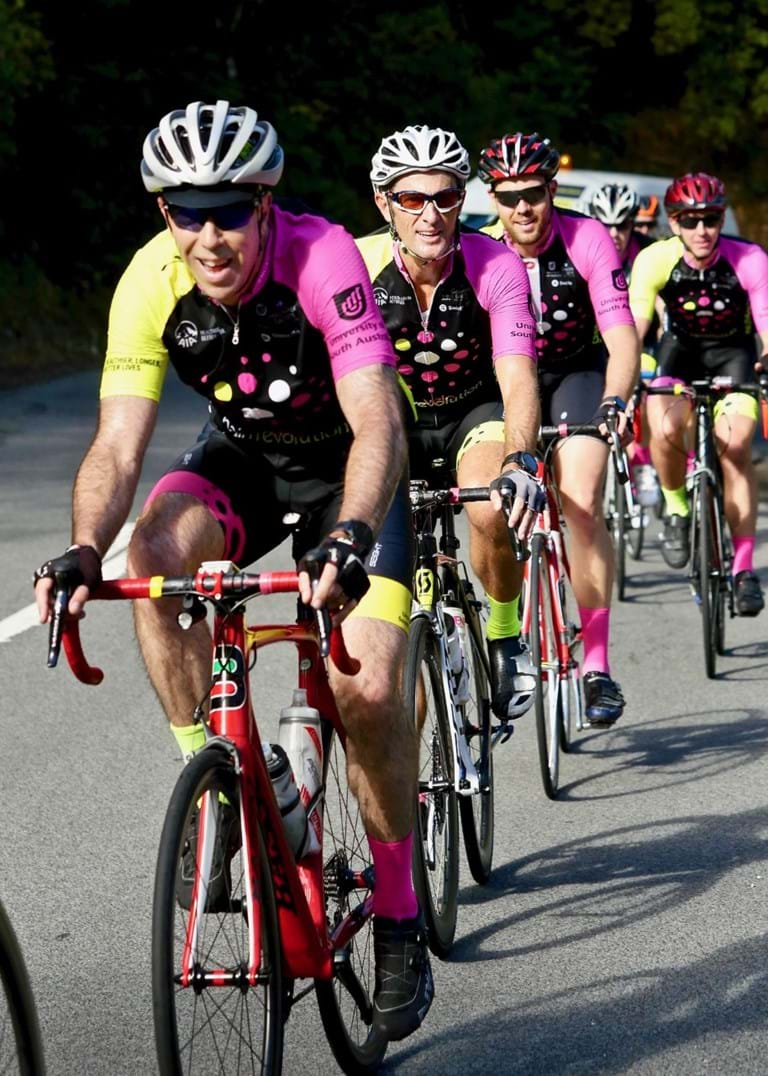 Success for Pain Revolution's Rural Outreach Tour in Tasmania
The "Pain Revolutionaries" have just wrapped up their annual 7-day, 700km Rural Outreach Tour, held this year in Tasmania. The tour is a gruelling physical challenge for the 25 cyclists - health professionals, educators, recovered patients and researchers who are passionate about reducing the burden of persisting pain in rural and regional Australia. Each and every rider takes time off their usual work, pays for all their food, accommodation and ride support, and raises three thousand dollars. Alongside the riders are a team of educators who conduct free community education events and double up as support crew for the riders. In 2019, the educational team delivered 20 events and together with the Brain Bus reached over 1500 members of the general public and health professionals in 10 towns from Smithton in the north-west to Huonville in the south-east. Pain Revolution's commitment to collaboration was reflected in their engagement with over 30 representative bodies in the promotion, hosting and conduct of the Tour. All the professional events were specifically supported by the Tasmania PHN.
University of South Australia Pain Scientist Professor Lorimer Moseley, part of the peloton and the education team, described this tour as "the best yet! Every year we think 'that's it – we can't top that' and yet we do! It is truly a team effort, from the Brain Bus, Education, cycling/fundraising, Community Engagement, food support and media teams – everyone is of a single mind and heart. It is an immense privilege to be part of such a group and it is at times overwhelming to see the impact we are having on rural and regional communities."
The 2019 Tour had a strong consumer representation in the riders and support crew. Two of the riders, Ben de Riter and Taylor Wilczynski, and Pain Revolution's Community Engagement Officer, Trevor Barker, represented people who have recovered from persisting pain. They were important voices in the panel discussions that were a feature of the evening educational events. They provided the critical perspective of "lived experience" with persisting pain, which proved to be a critical part of the discussions. Their voices formed a bridge for people in pain to talk about their experiences, and for health professionals to gain insight into the challenges that people in pain encounter, and how people recover.
The Rural Outreach Tour has raised over $95,000 from donations received from all over the globe, to support the flagship Local Pain Educator Programs. The resources generously donated by NOI and others raised over $7000, and Swansea, the smallest community we visited, purchased the greatest number of books to support pain education and learning. All funds raised go directly to supporting their Local Pain Educator Program, in scholarships for the 2020 intake. The tour itself is made possible by sponsorship from AIA Australia, University of South Australia, Gallagher Bassett, Swiss Re, NOIgroup and a host of partner organisations.
The Tour riders and educators have packed up and headed home. They have sown seeds of change and possibility in the communities visited on this tour. Where the Tour ends, a journey is just beginning. 19 recently selected Tasmanian Local Pain Educators will be building on the momentum generated by the tour, by undergoing a year of training, a year of delivering context and community-specific educational events in their community. This 'long game' approach to embedding capacity in rural and regional communities is a sustainable and scalable model and it is attracting the attention of government and community agencies worldwide. It is no wonder – the 2019 cohort of Local Pain Educators have already delivered 43 events to over 1100 participants and they have not even officially started the delivery component of their training program!
To watch a short video on the 2019 Pain Revolution Rural Outreach Tour, visit their website – painrevolution.org. For further information on the Local Pain Educator Program for health professionals, or for consumers who identify as community leaders and would like to get involved in Pain Revolution community programs, please contact Angie Clerc-Hawke via angie@painrevolution.org. To register your interest in participating in the 2020 Pain Revolution Rural Outreach Tour, email Tracy at tracy.jones@unisa.edu.au.
Thank you to Painaustralia for their help and support in getting on the road in 2019, and for the leadership and effort in working alongside community organisations such as Pain Revolution to reduce the burden of persisting pain in Australia.