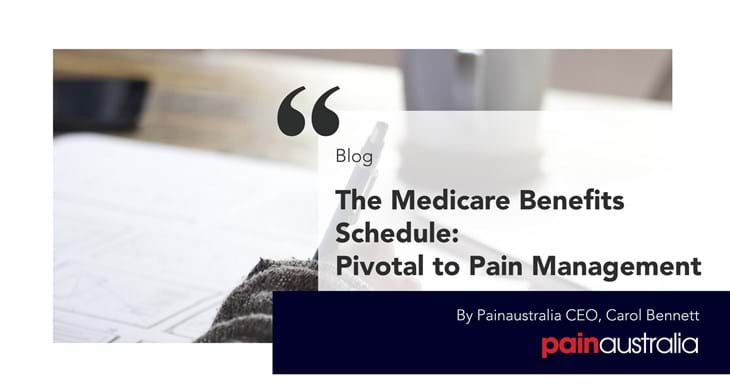 ---
Most Australians enjoy good access to healthcare through our Medicare Benefits Schedule (MBS). The universal health care promise that the MBS has afforded to generations of Australians has ensured that we have led the world in prioritising healthcare as a fundamental and integral part of the social fabric.
The unfortunate fact is that the promise of universal health care for all Australians has eroded into the 21st century. The growing burden of chronic disease, MBS rebate freeze, and a host of other policy and structural barriers have meant that access to affordable health care is not a guarantee for everyone.
This erosion is perhaps felt most keenly by the 3.24 million people living with chronic pain. Despite the promise of universal access, in its current form, the MBS does not support the realisation of a best practice multidisciplinary, patient-centred approach in primary, secondary or tertiary healthcare settings.
Like all chronic conditions, chronic pain is best managed in the community. The best evidence supports a multidisciplinary model of care that takes into account the physical, psychological, social and environmental factors that influence the experience of chronic pain. This is why many people with multiple complex chronic conditions, including chronic pain, require coordinated, interdisciplinary care including more intensive psycho-behavioural treatment with pain experts.
The services needed by people experiencing chronic pain are often difficult to access due to unacceptably long waiting times for allied health and multidisciplinary pain services in public hospitals or poor insurance coverage for adequate and appropriate services. These barriers result in large out of pocket costs for people living with chronic pain who want to access best practice care, with many people relying on their private health insurance and paying large gap fees to enable this vital access.
Across Australia, more reports and statistics continue to highlight the epidemic of pain facing more than 3 million Australians and the life-threatening risks posed by an over reliance on medications and inadequate pain management.
New data from the Deloitte Access Economics report for Painaustralia, the Cost of Pain in Australia reveals that 68% of pain management consultations will end with a GP prescribing pain medication. Another 13% will end in imaging, but less than 15% can hope to be referred to an allied health professional. Australia now has to manage chronic pain.
This report has again highlighted the physical, mental and emotional toll of chronic pain that impacts every facet of patients' lives, with nearly 1.45 million people in pain also living with depression and anxiety. It finds that the reported comorbidity for chronic pain and depression or anxiety is estimated at 44.6% of patients. We also know that the MBS is failing to meet to the mental health needs of our communities, with experts calling for a team based approach to mental health as well.
The need for targeted strategic action is now critical. This is why Painaustralia has been encouraged to see the Draft Report of the Pain Management Clinical Committee of the Medicare Benefits Schedule (MBS) Review Taskforce (the Taskforce). The Committee has made some 32 recommendations across three major areas – recommendations for change, deletion and referrals and new items.
Painaustralia is particularly pleased to note the Committee's recommendations that consultations with specialist pain medicine physicians, and allied health professionals, as well as the development of multidisciplinary care plans and treatment pathways, are central to effectively managing chronic pain. This broad approach is equally applicable to cancer related pain and in preventing the progression of acute pain to chronicity.
In our submission, Painaustralia has supported recommendations made by the Committee to provide better access to multidisciplinary care for chronic pain management, covering all aspects of the services from planning to reviewing effectiveness. We are particularly supportive of recommendations that contextualise the new MBS items to enable access via a variety of methods, including face-to-face and group meetings as well as telehealth technologies.
These new recommendations offer us a once in a lifetime opportunity to ensure that our MBS addresses the needs of the millions of Australians living with chronic pain today.
Chronic pain is an escalating health issue, which we now know imposes a very significant economic burden on our communities through lost productivity and health costs. The mental, social and emotional toll of chronic pain needs to be much better addressed for the benefit of Australians experiencing pain, their families and their communities.
And isn't this the primary purpose of the MBS?
Carol Bennett, CEO