National Palliative Care Week
---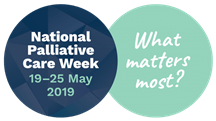 National Palliative Care Week is an annual awareness raising week organised by Palliative Care Australia (PCA).
The theme for National Palliative Care Week 2019 was 'What matters most?' and was held from the 19-25 May 2019.
National Palliative Care Week is a national week supported by the Department of Health to raise awareness and understanding about palliative care in the Australian community.
The theme addresses the need for Australians to plan ahead for their end-of-life care and discuss it with their loved ones and health professionals.
During the week PCA highlighted how palliative care can help people with a life-limiting illness to have a high quality of life, right to the end of life.
Dying to Talk Resources
Palliative Care Australia have also developed two resources – the online Dying to Talk Discussion Starter and Dying to Talk Card Game to help work out what matters most to you.