Jeramiah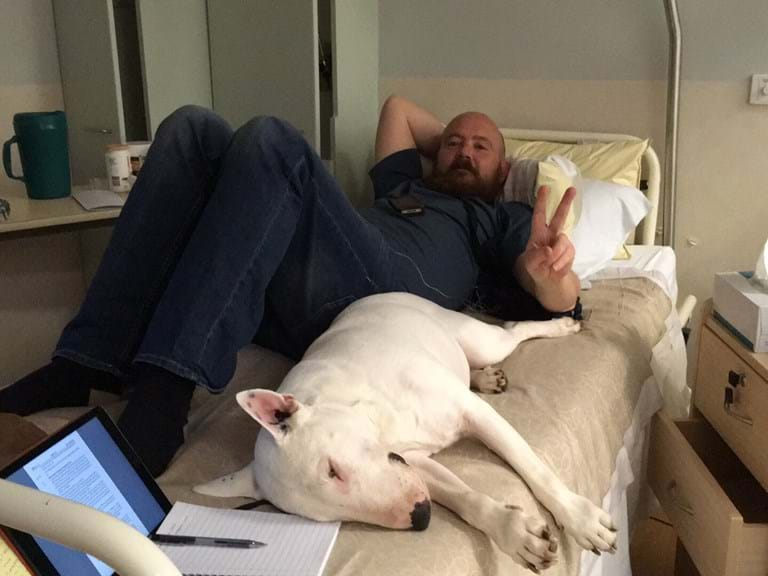 Five years ago I hurt myself lifting an object and was eventually diagnosed with an injury to the sacroiliac joint, which connects the bottom of the spine to the pelvis.
After several rounds of treatment without significant benefit I was directed to a pelvic floor clinic, which advised pelvic floor physiotherapy and Botox injections. Somehow this impacted a nerve in the pelvic region, and I ended up with excruciating pain and lost the ability to sit.
After some time I decided to trial a spinal cord stimulator, and then had surgery to insert the permanent one.
Unfortunately the surgery affected nerves in the pelvic area, which led to even worse neuropathic pain in my groin, pelvic region, down my legs and into my feet.
Every day it feels like I have acid in my pelvis and at the bottom of my feet. Parts of my body alternate between hot and cold and the severe burning nerve pain never stops.
The symptoms are similar to Complex Regional Pain Syndrome (CRPS), a debilitating neuropathic pain condition that can occur after injury or surgery.
Even though I walk the dog every day and attempt to live life as best I can, the pain means I can't work or study, fish or hike, and it can be very depressing. I can only walk on level ground.
I have a wonderful and supportive partner but our intimacy has been affected as well as our social life. In fact, they are non-existent.
I'm on low dose opioids as well as anti-depressants and I have trouble with sleep.
It's been six months post-surgery and I'm hoping removal of the spinal cord stimulator might offer some relief and calm my body's response to it.
I cannot explain how terrible it is to have CPRS of the pelvis. Suffice to say there's a reason why CRPS is often referred to as the suicide disease.