Maria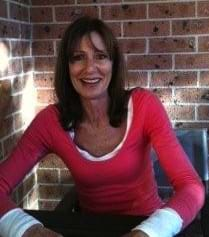 Migraine is devastating but I refuse to give into the pain.
I can't work full-time, I can't travel and I no longer have a busy social life. The psychological impact has been enormous.
I've spent a fortune on the medical profession, I've seen numerous specialists and there is no avenue I haven't tried.
Initially I had brain scans, MRIs and x-rays, all of which showed no sinister medical problem.
I trialled an electrical stimulator, I've had nerve block injections, steriod injections, Botox injections, I've tried massage and have had numerous sessions with phsyiotherapists and chiropractors, but nothing relieved the pain.
Unfortunately, most medicos simply prescribed painkillers. Many of them said there was nothing more they could do for me.
I finally got answers through the Headache Clinic in the Sutherland Shire in Sydney, where I learned that the muscles in my neck go into spasm involuntarily, which causes them to shorten and pull at the verterbrae, distorting the nerves—a result of years of stress.
Participating in the ADAPT program at the Royal North Shore Hospital in Sydney also helped me. I waited more than two years to get into the program, but it was worth it.
ADAPT helped me feel less alone, validated my experience that pain is an emotional battle, and reinforced my understanding that medication is not the answer, but keeping physically active and changing thought patterns can have long-term benefits.
Before ADAPT I took strong painkillers, such as Endone and Topamax, but now I take only Panamax or Nurofen.
I've learned to embrace the pain, because if I feel resentful it only makes things worse. I used to let headache ruin my day, but now I accommodate it.
Originally I had a migraine every day but now I get just two a week. Sometmes I'm still crying with the pain, but I don't get stressed about it anymore. I'm also fortunate to have very understanding friends and a lovely son.
My daily walk along the esplanade by the sea, also helps. I just refuse to give in to the pain.