Better opioid education and awareness needed
---
---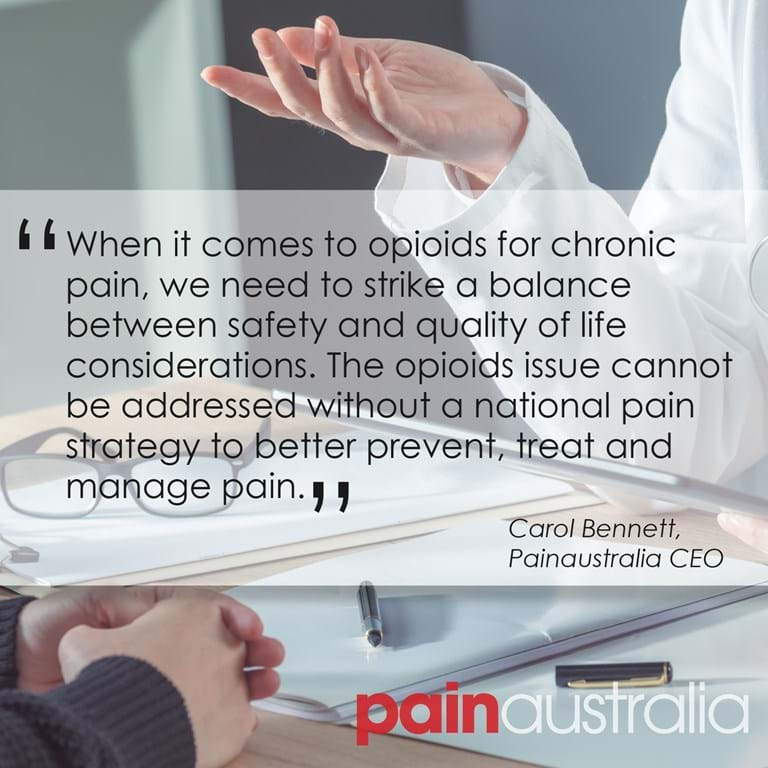 Painaustralia is calling for better education and awareness around opioid use for pain management, in light of evidence of significant harms and increasing use of opioids for chronic non-cancer pain.
In our submission to the Therapeutic Goods Administration consultation paper on options for a regulatory response to opioid use and misuse in Australia, we have called for better understanding of quality use of medicines and best-practice pain management for both prescribers and consumers, as part of a national pain strategy.
Prescribers need to be equipped with tools to deliver best-practice pain medicine, which should be part of core training and Continuing Professional Development, and consumers need the knowledge to seek out the best pain management options for their individual situation.
"Issues of opioid reliance and misuse in relation to pain are complex and can only be resolved when the wider problem of inadequate access to best-practice pain management is addressed," says Painaustralia CEO Carol Bennett.
"There is a particular need to provide rural communities with improved pain services and this should be a priority area. Our 2018-19 Pre-Budget Submission outlines options to facilitate this."
Despite opioids being generally ineffective for treating chronic non-cancer pain, with potential for over-reliance and addiction, they are prescribed by GPs in more than 7 in 10 cases of multisite pain management in Australia.
The latest general practice data on opioid prescribing found rates have increased significantly in recent years, jumping from 3.8 per 100 encounters in 2000-01 to 5.6 per 100 in 2010-11.
The ATLAS of Healthcare Variation 2015 found that opioid dispensing rates where higher in regional areas than in major cities.
People who do use opioids for their long-term pain condition can experience judgement from the community and medical practitioners, and we believe any opioid response should include actions that would help remove this stigma.
"When it comes to opioids for chronic pain, we need to strike a balance between safety and quality of life considerations," says Ms Bennett.
Please download our opioids submission.