Isabella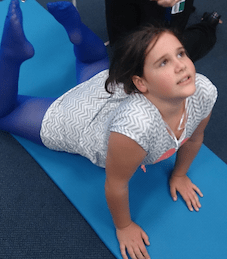 Isabella hurt her ankle dancing, and over the next few months, the pain travelled throughout her entire right leg.
Just eight years old, she wanted her dad to blow if off with his shotgun, to take the pain away.
Despite every test coming back clear, Isabella was on crutches from the moment of her injury, and in excruciating pain.
Her foot was purple and cold, and tilted on an angle. She refused to wear anything except shorts because clothing would cause pain; she couldn't even stay in the wind or have the car air conditioner on, because the movement of air would hurt.
Isabella turned into a very different girl – angry and yelling at people. It was the worst time in our family's life.
Despite doctors telling us there was nothing wrong, we continued to search for help. We even tried calling interstate, as there was nowhere that catered for kids her age in Queensland.
Three months after the injury, an orthopaedic surgeon diagnosed Complex Regional Pain Syndrome (CRPS), and immediately called the NQ Persistent Pain Management Service at Townsville Hospital.
Over the next five weeks, we made the 1.5-hour trip to Townsville once a week, for treatment.
With no improvement, she was admitted to hospital for intensive therapy with an occupational therapist, psychologist and physiotherapist. She also worked with a paediatric doctor and the pain specialist.
Her admission lasted four weeks, then she was an outpatient for three weeks, but had to remain in Townsville. For us, it was a logistical challenge, as we had to juggle our other two children and our work.
Our visits to Townsville continued on a regular basis for some months afterwards, and she still has physiotherapy once a fortnight.
Isabella is slowly getting back to a normal life however, she is always worried about what might happen in the future. She says she never wants that pain again.
While we worry too, we are just thankful to have our lovely little girl back.